In the quest to provide the best living environment for your furry friend, the choice between a wooden hamster cage and a metal hamster cage is pivotal.
Each option comes with its own set of advantages and drawbacks, and making the right decision can significantly impact your pet's well-being.
Let's dive into a comprehensive comparison to help you determine which type of cage suits your needs best.
Wooden Hamster Cage
When it comes to choosing a cage for your beloved hamster, the appeal of a wooden hamster cage is undeniable.
Its natural elegance can seamlessly blend with your home decor while providing a cozy environment for your pet.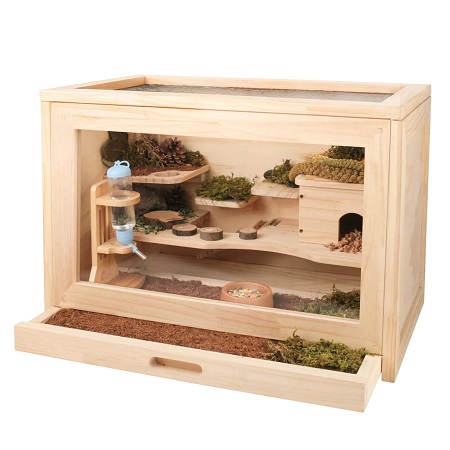 However, before you make a decision, it's crucial to explore the pros and cons of wooden cages, address safety considerations, and understand the maintenance requirements.
In this section, we'll delve into the world of wooden hamster cages, highlighting their unique features, challenges, and how to ensure your hamster's comfort and well-being in these aesthetically pleasing enclosures.
Material overview
When considering a wooden hamster cage, it's important to weigh the pros and cons to make an informed decision.
Pros
Aesthetic Appeal: A wooden hamster cage exudes natural beauty and elegance. It seamlessly blends with your home décor and provides a warm and inviting atmosphere for your pet.
Natural Insulation: Wood offers excellent insulation properties, keeping your hamster cozy in both warm and cold weather. This natural insulation helps maintain a comfortable environment for your furry friend.
Cons
Chewing Susceptibility: One of the main drawbacks of wooden cages is their susceptibility to chewing. Hamsters are notorious chewers, and a wooden enclosure may not withstand their constant gnawing.
Maintenance Requirements: Wooden cages require more maintenance than metal alternatives. They can absorb moisture, leading to potential damage and odor issues if not properly cared for.
Safety and durability
Safety considerations
Chew-Safe Modifications: To address the chewing susceptibility of wooden cages, consider adding chew-safe modifications. These can include metal reinforcements in vulnerable areas, such as corners and edges.
Ventilation Enhancement: Proper ventilation is crucial for your hamster's health. Wooden cages can be designed with ventilation holes to ensure your pet receives an adequate supply of fresh air.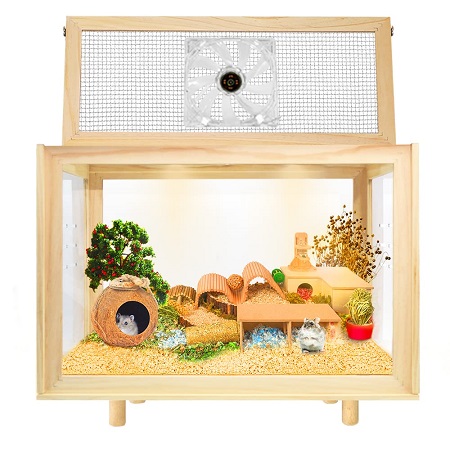 Durability and maintenance
Longevity of Wood: With proper care, wooden cages can last a long time. Choosing hardwoods known for their durability, such as oak or cherry, can extend the life of the enclosure.
Cleaning Guidelines: Cleaning a wooden cage requires gentle care. Avoid using harsh chemicals that can harm your hamster. Instead, use mild, pet-safe cleaners and follow cleaning guidelines to prevent damage to the wood.
Cleaning and maintenance
Cleaning challenges
Moisture Sensitivity: Wood is sensitive to moisture, which can lead to warping and deterioration. Be cautious when cleaning and ensure the cage stays dry.
Odor Control: Wooden cages may trap odors more than metal ones. Regular cleaning and proper bedding choices are essential to maintain a fresh-smelling environment.
Maintenance tips
Regular Checks: Frequently inspect the cage for signs of wear, chewing, or damage. Promptly address any issues to prevent further deterioration.
Repairs and Refurbishments: Wooden cages can be repaired and refurbished to extend their lifespan. Sanding and resealing damaged areas can help maintain their beauty and functionality.
Comfort and suitability
Comfort for hamsters
Natural Feel: Hamsters enjoy the natural feel of wood. It provides a comfortable and familiar environment, reducing stress for your pet.
Temperature Regulation: Wood's insulation properties help regulate temperature, ensuring your hamster stays comfortable year-round.
Indoor integration
Aesthetic Compatibility: Wooden cages complement indoor spaces, adding a touch of rustic elegance to your home.
Customization Options: Wooden cages can be customized to fit your style and preferences. You can choose different wood types, finishes, and designs to create a personalized enclosure for your hamster.
A wooden hamster cage offers natural elegance and comfort, but it's essential to address its maintenance requirements and susceptibility to chewing.
With the right care and modifications, it can provide a cozy and beautiful home for your hamster.
Metal hamster cage
Choosing the right cage for your beloved hamster is a crucial decision. here, we'll explore the practical efficiency of metal hamster cages.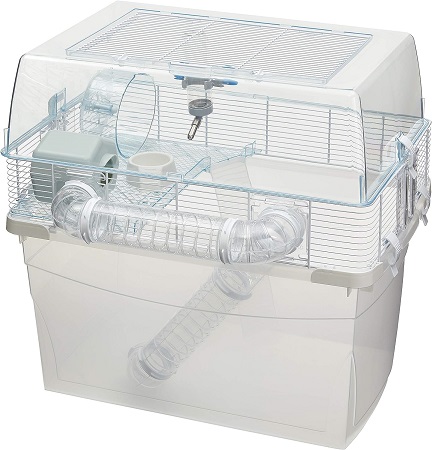 These cages offer unique advantages and considerations, including durability, safety features, ease of maintenance, and suitability for your pet.
Discover why a metal cage can be a practical choice that ensures the well-being and security of your furry companion while simplifying your pet care routine.
Material overview
In the realm of hamster cages, the practicality of a metal hamster cage stands out. Explore the advantages and drawbacks to make an informed choice.
Pros
Chew-Proof Design: Metal cages are inherently chew-proof, making them an excellent choice for hamsters with a penchant for gnawing. Your pet's safety is a top priority.
Easy Cleaning: Cleaning a metal cage is a breeze. The non-absorbent material resists stains and odors, allowing for efficient and hygienic maintenance.
Cons
Less Insulation: Compared to wooden cages, metal cages provide less insulation. Additional bedding and nesting materials may be necessary to ensure your hamster's comfort.
Aesthetic Limitations: Metal cages may lack the natural beauty of their wooden counterparts. However, they make up for it with practicality.
Safety and durability
Safety features
Chew-Resistant Coatings: Many metal cages come with chew-resistant coatings to enhance safety. These coatings prevent your hamster from accessing sharp edges or potentially harmful materials.
Secure Locking Mechanisms: Metal cages often feature secure locking mechanisms to prevent accidental escapes. Your hamster's security is ensured.
Durability and maintenance
Longevity of Metal: Metal cages are built to last. They can withstand the test of time and resist wear and tear.
Cleaning Convenience: Cleaning a metal cage is a straightforward task. The material's non-porous nature simplifies maintenance.
Cleaning and maintenance
Efficient cleaning
Stain and Odor Resistance: Metal cages resist stains and odors, ensuring a clean and fresh environment for your hamster.
Hygienic Benefits: Efficient cleaning promotes hygienic conditions that are essential for your pet's well-being.
Low maintenance
Durability in Use: Metal cages require minimal maintenance during their lifespan. They remain durable in daily use.
Minimal Repairs: With proper care, metal cages seldom require repairs, saving you time and effort.
Comfort and suitability
Comfort for hamsters
Easy Mobility: Metal cages are typically lightweight and easy to move, allowing for flexibility in placement and cleaning.
Temperature Considerations: Consider the room temperature when using a metal cage, as they provide less insulation. Provide additional bedding for warmth when needed.
Indoor integration
Functional Design: Metal cages boast a functional design that suits various indoor spaces. Their versatility complements modern interiors.
Decorative Possibilities: While not as visually striking as wooden cages, metal cages offer opportunities for customization and decoration.
A metal hamster cage excels in practicality, safety, and ease of maintenance. Explore the unique features and consider your hamster's comfort and aesthetic preferences when making your choice.
Conclusion
In the battle of wooden hamster cage vs metal hamster cage, the choice ultimately depends on your priorities and your pet's needs.
Wooden cages offer natural beauty and insulation, ideal for those who prioritize aesthetics and temperature regulation. However, they require more maintenance and may be susceptible to chewing.
On the other hand, metal cages are practical and easy to clean, making them a sensible choice for pet owners with busy lifestyles. While they lack the natural appeal of wood, they are durable and chew-proof.
Consider your preferences, your hamster's comfort, and your living space when making this important decision. Both cage types have their merits, so choose the one that aligns with your priorities to provide a happy and safe home for your beloved hamster.