Outfitting your hamster's home with fun accessories is key to keeping them active and engaged. The right wheels, hideaways, tunnels and more provide enrichment. This guide covers must-have add-ons to build your hamster their dream home.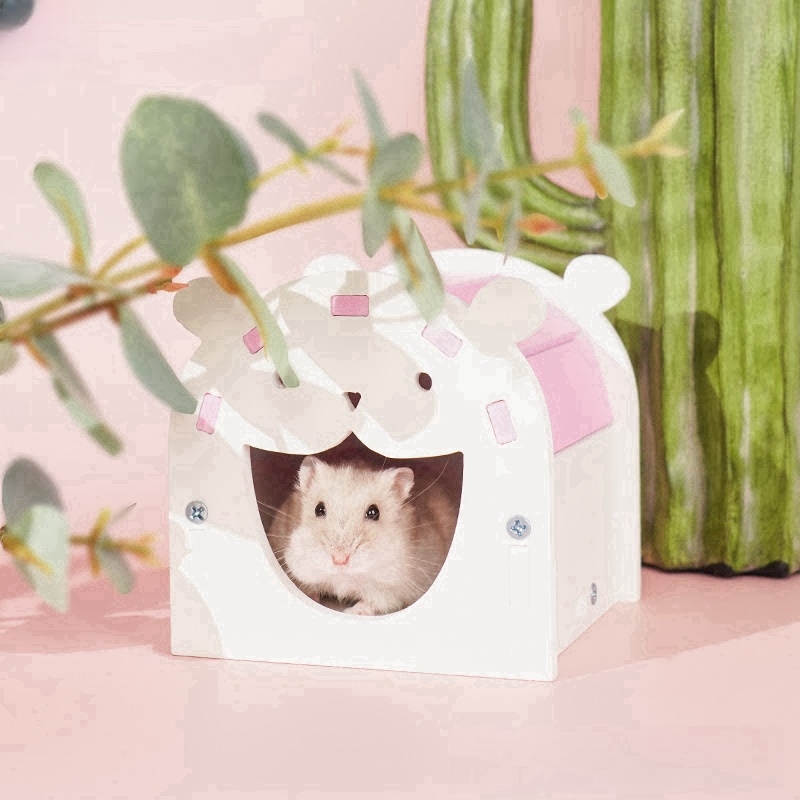 Essential Hamster Habitat Accessories
There are certain accessories that every hamster home should have:
Exercise Wheel
Wheels allow hamsters to run off energy. Essential for their health.
Hideaway
Hideouts make hamsters feel secure and offer nesting spots.
Food Dish
Food bowls neatly contain nibbles. Look for heavy, tip-proof ones.
Water Bottle
Bottles with ball-bearing sipper tubes hydrate hamsters.
Nesting Material
Fluffy bedding for nesting encourages natural instincts.
These basic accessories form the core of a properly outfitted habitat.
Fun Add-Ons for Play and Enrichment
Beyond the basics, you can enrich your home with fun goodies:
Tunnels
Interconnected tubes simulate natural burrows for exploration.
Chew Toys
Wooden blocks, loofahs, etc. give bored hamsters something to gnaw on.
Treat Ball
Free-rolling ball dispenses treats as it moves for smart play.
Swings
Hanging swings create new vantage points for climbing hams.
Hamster Balls
Clear exercise balls allow safety roaming outside the cage.
The more engaging accessories you offer, the happier your hammy will be!
Top 5 Must-Have Hamster Habitat Accessories
Based on hamster needs and enrichment value, here are 5 must-have accessories:
A solid wheel without crossbars allows for healthy running.
A large hideout lined with nesting material is ideal for burrowing.
Pick a tip-proof ceramic dish that's easy to clean.
Select a drip-free bottle with a steel ball-bearing sipper tube.
Interconnect tunnels for an enclosed burrow system.
These top 5 accessories check the boxes for hamster health, safety, and fun!
Choosing the Right Exercise Wheel
The wheel is arguably the most important accessory. Here's how to pick:
Large enough for hamsters to run without arched backs.
Avoid wire or mesh wheels that can catch feet. Solid is best.
Sturdy, secure axle mount that won't wobble.
No crossbars or pinch points. Closed sides prevent falls.
Quiet operation, especially if the wheel is in a bedroom.
I recommend at least an 8-inch diameter for dwarfs and 10 inches for Syrians.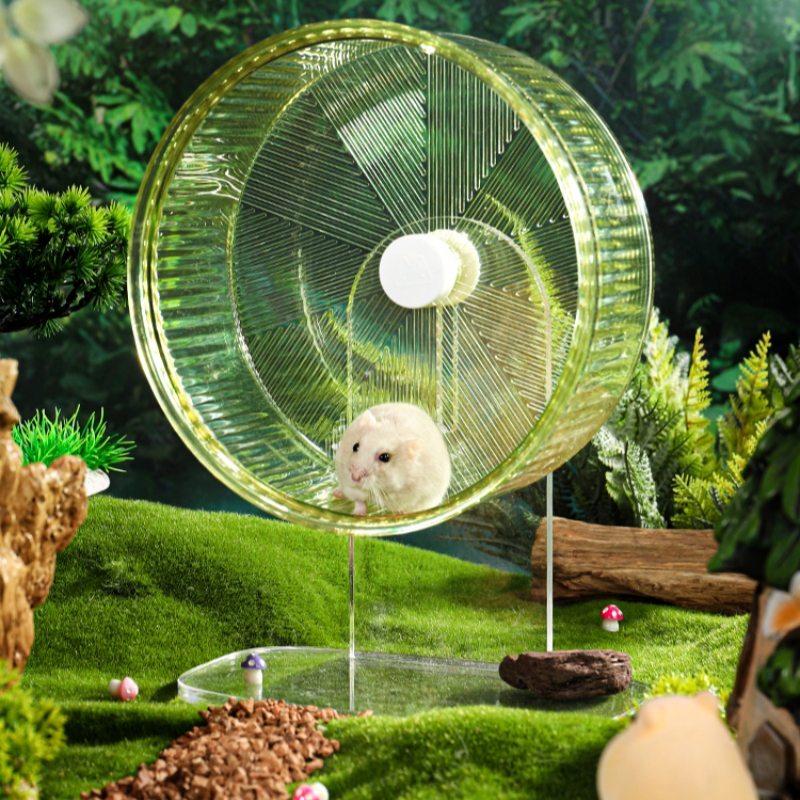 Offering the Best Hideaway Options
Hideouts should:
Be Roomy
Allow space for nesting material and stretching out.
Have Multiple Entrances
2 or more openings so they don't feel trapped.
Feel Secure
Partially enclosed and tucked away spots feel private.
Be Comfy
Lined with soft bedding and replaced when soiled.
Varying in Location
Move hideouts around periodically for newness.
Provide at least 1 hide per hamster plus extras!
Choosing Safe, Sturdy Tunnels
When selecting tunnels:
Ensure openings accommodate the hamster's size
Avoid thin plastic that can be chewed through
Interconnect securely to prevent collapse
Look for smooth, rounded surfaces with no sharp bits
Offer straight and curved pieces for a variety
Wash periodically as they attract grease and odors
Tunnels should encourage exploration not trap or injure!
Durable Food Dishes
For food bowls:
Pick stainless steel, ceramic or heavy crockery
Rim keeps bedding out and food in
Shallow for easy access
Tip-proof is a must!
Easy to fully clean and disinfect
Check food and water 2x daily to ensure ample supply.
Criteria for Drinking Water Bottles
Here's how to pick the perfect water bottle:
Leak-proof design with steel ball bearing sipper
Transparent monitoring of water level
Tip-proof mount and wide base
Large capacity, so refills are less frequent
Materials that won't harbor bacteria
Angled spout accessible from multiple directions
Fresh, clean water daily is a must to keep your hamster hydrated and healthy!
Fun Extras for Even More Enjoyment
Beyond necessities, consider these entertaining add-ons:
Treat puzzles and balls
Shreddable toys like loofahs
Swings, seesaws, climbing platforms
Non-toxic wood, straw or paper chew toys
Cardboard tubes, boxes, and paper bags to explore
Scatter-feed their food to encourage foraging
The more you can engage their curiosity, the better! Swap out extras weekly for novelty.
Give your hammy the best home ever with all the right accessories!
Prioritizing Accessories Based on Hamster Behavior
Tailor accessories to your individual hamster's personality:
Active hamsters need big wheels, tunnels, swings
Shy hamsters benefit from more hides and nesting material
Chewers love renewable chew sticks and wood blocks
Smart hams will be occupied by treat balls and puzzles
Curious hamsters enjoy exploring tubes and boxes
Watch your hamster's behavior to pick items that best suit them. Meet their needs for a happy home!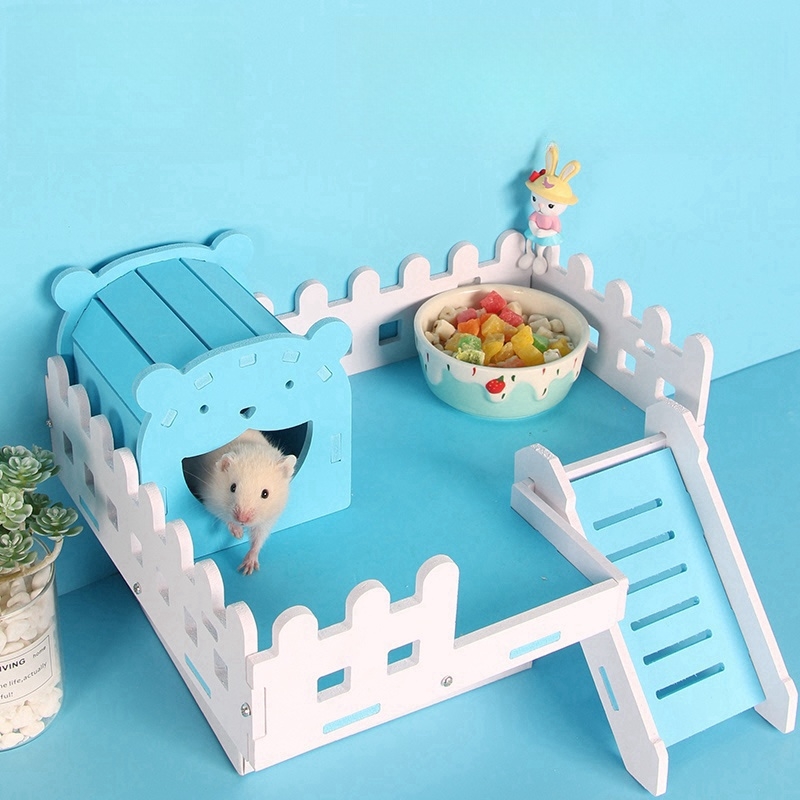 Safety First When Accessorizing
While accessories provide enrichment, safety should be the priority:
Inspect for broken parts or sharp edges regularly
Ensure hideouts have multiple exits to avoid trapping
Check for detachable parts that could come loose
Supervise the use of exercise balls and new items first
Remove accessories if showing signs of damage or wear
Avoid plastics and metals hamsters might chew on or ingest
Don't overload the habitat, as clutter causes stress
With close oversight and common sense, accessories will bring joy, not harm!