Keeping your hamster's habitat clean is essential for their health and happiness. Hamsters are sensitive to ammonia and bacteria buildup from urine and waste. A dirty home can cause illness. Follow this guide for pro tips on keeping your hamster house clean!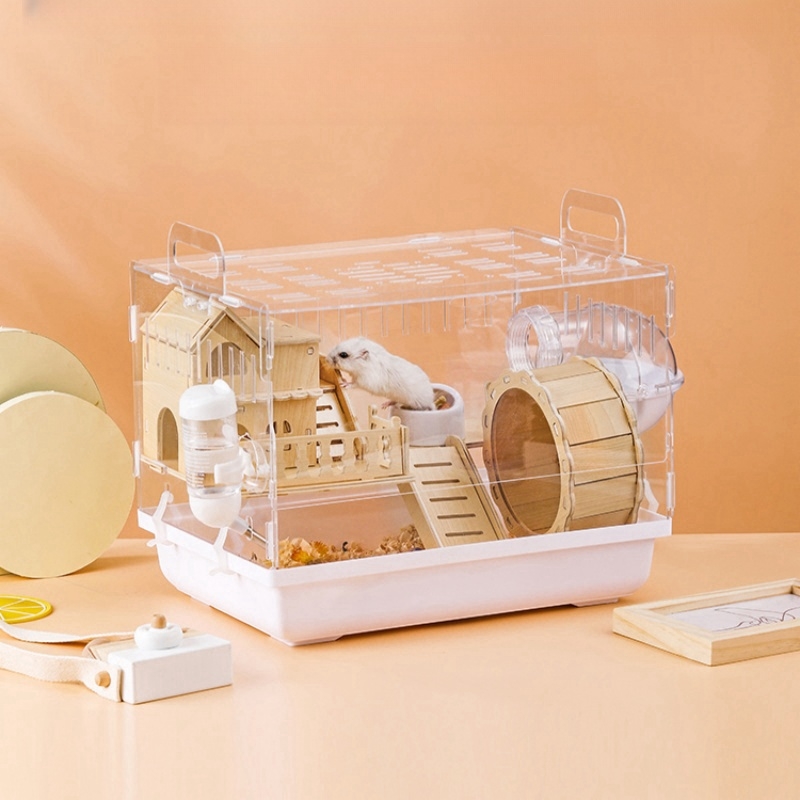 Why a Clean Cage Matters
Here's why you need to keep your little buddy's home spotless:
Prevents Ammonia Buildup
Ammonia from urine causes respiratory issues if allowed to accumulate.
Avoids Bacterial Growth
Wet spots breed harmful bacteria like salmonella.
Limits Odors
Nobody wants to deal with a stinky cage. Cleaning contains smells.
Reduces Stress
A messy habitat is psychologically stressful for hamsters.
Improves Hygiene
Dirty cages risk your hamster's health. Cleanliness prevents disease.
Keep these risks in mind and make cleanliness a top priority!
Daily Spot Cleaning Tips
Spot cleaning daily is step one to cleanliness:
Remove Wet Spots
Discard the soiled litter and replace it. Don't let urine sit.
Clear Droppings
Daily cleaning prevents waste accumulation.
Wash Food Bowls
Empty and disinfect bowls to avoid food spoilage.
Take Out Trash
Dispose of soiled litter properly in sealed bags.
Tidy Accessories
Straighten hideaways, toys, etc. for a tidy appearance.
Aim to spot clean at least once per day. This regular care prevents major issues.
Weekly Deep Cleaning Checklist
In addition to daily spot cleans, a weekly deep clean is vital:
Replace All Litter
Dump all the litter, wash the pan, and refill it with fresh bedding.
Full Cage Disinfection
Wipe down the entire cage with an animal-safe cleaner.
Wash Accessories
Disinfect hideaways, toys, wheels, etc.
Check Bars
Ensure cage bars are free of waste buildup.
Sweep Surrounding Area
Sweep/vacuum around the outside of the cage.
Examine Health
Check your hamster's condition while cleaning.
Setting a consistent cleaning day ensures this vital task isn't skipped.
Best Supplies for Cleaning Your Hamster's Habitat
Having the right tools makes cleaning easy:
Paper Towels
For wiping up spots and spills during daily cleans.
Small Scoop
A spoon or mini dustpan helps remove soiled litter.
Trash Bags
Seal up discarded waste so it doesn't smell.
Vinegar/Water Mix
Safe diluted vinegar solution helps remove stains naturally.
Disinfectant Wipes
Look for pet-safe wipes to sanitize the cage.
Odor Eliminators
Sprays help rid smells on bars, trays, etc. between washes.
Scrub Brush
For scrubbing stuck-on debris from cage bars.
Baking Soda
Sprinkling absorbs odors between full cleanings.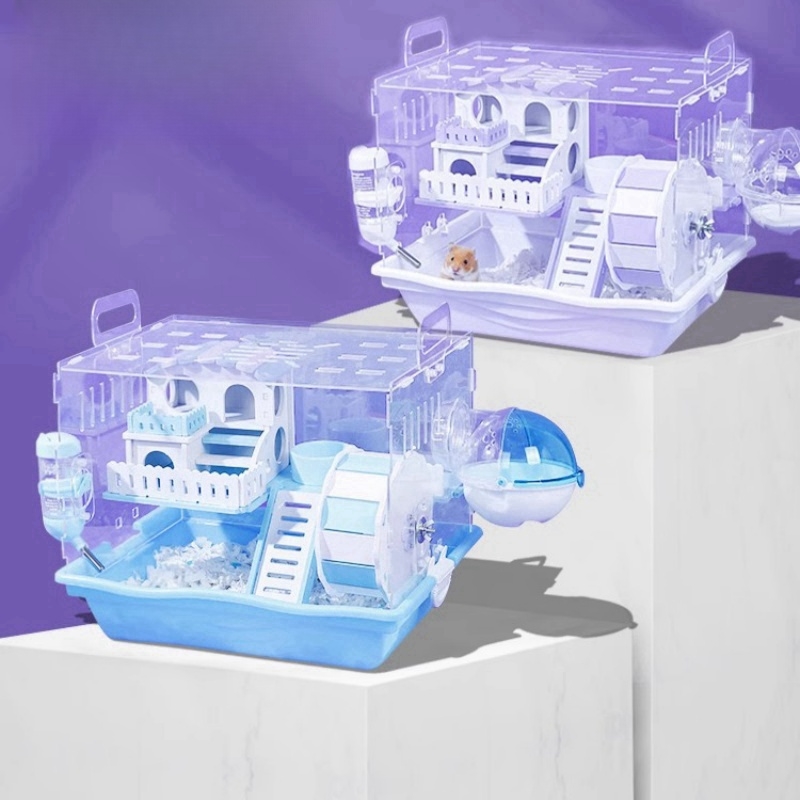 Top Tips for Odor Control
Battling smells in your hamster home? Try these pro tips:
Spot Clean Often
Don't let urine and waste sit, clean messes promptly.
Use Odor Absorbers
Baking soda or pet odor neutralizers absorb nasty smells.
Add Charcoal Filter
Using an air-purifying charcoal filter cuts down on stench.
Check for Leaks
Make sure the bottle isn't leaking urine into a litter.
Increase Ventilation
More airflow whisks away odor. Add a mesh panel to a cage.
Monitor Diet
Foods like cabbage can cause extra smelly waste.
Change Litters
Switch to less fragrant litter-like aspen shavings.
Room Air Purifier
A room filter can help absorb ambient odors.
Red Flags of a Dirty Cage
Watch for these signs that your hamster's house needs cleaning:
Strong Ammonia Odor
Overpowering urine smell means litter needs changing.
Visible Waste Buildup
Excess droppings or soiled litter indicates neglect.
Damp Litter
Wet spots denote leaky bottles or improper waste removal.
Greasy Bars/Trays
A buildup of oils signals a need for scrubbing.
Missing Fur
Stress-related fur plucking can result from dirty conditions.
If you notice any of these, it's definitely time for a thorough cleaning!
Keeping Things Clean for Your Hammy's Health
Maintaining a spotless habitat takes time and diligence but is so important for your small pet's well-being. Stay on top of daily spot cleaning. Deep clean routinely. And provide your hamster with a pristine home both you and they can be proud of!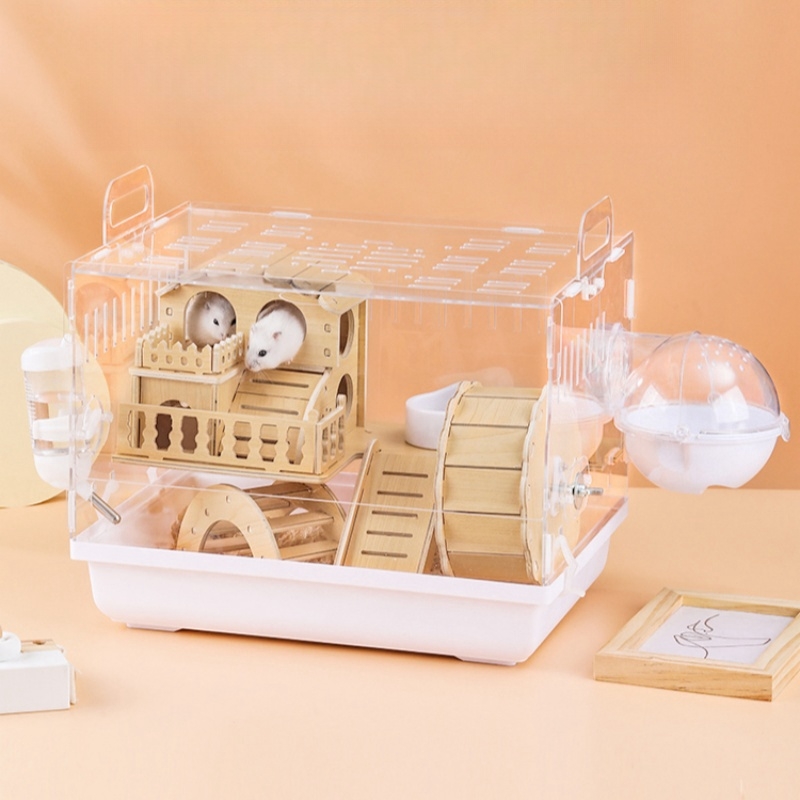 Additional Cleaning Tips
Here are some extra tips for keeping your hamster's home hygienic:
Wash water bottles weekly to prevent mold buildup
Spot clean wheels daily to remove grease and waste
Discard chew toys at the first sign of wear and tear
Replace soiled nesting material right away for comfort
Use unscented products to avoid irritating the hamster's nose
Deep clean less often for elderly or stressed hamsters
Spot-check hidden corners for unnoticed messes
Wash hands before and after cleaning to prevent spreading germs
With diligence and proper technique, you can maintain a healthy, happy home for your precious hammy!