Bringing home a new hamster is an exciting time! While hamster cages may seem simple, creating a fun, enriching habitat takes some planning and work. The cage setup you choose can majorly impact your hamster's health and happiness.
In this blog post, we'll go over tips to design a hamster paradise right inside your pet's home. With the right accessories, layout, and decorations, you can keep your furry friend entertained and thriving in a cage they'll absolutely love!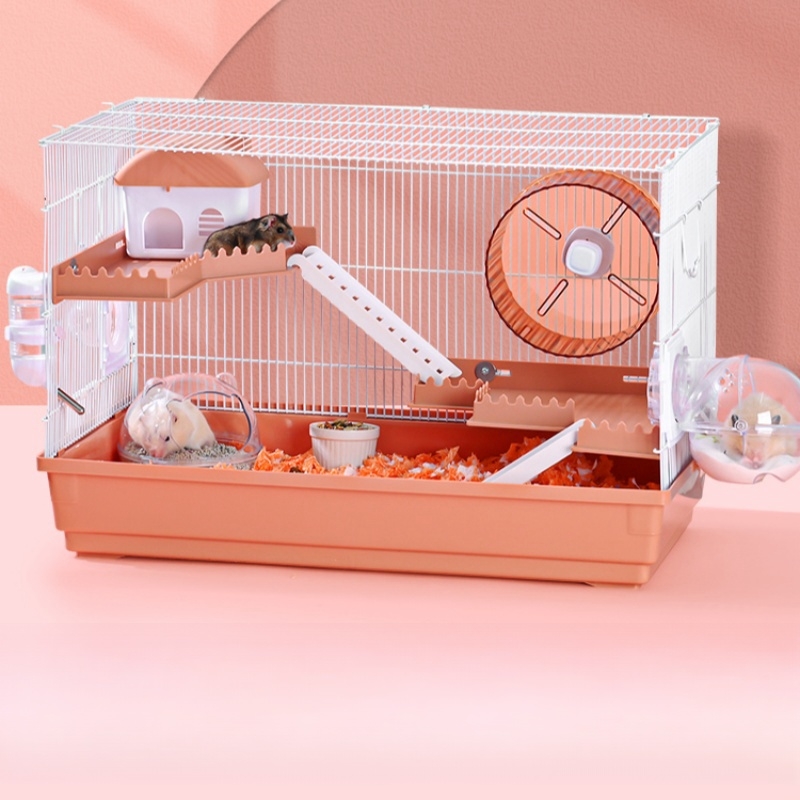 Choose the Right Size Cage
The first step is selecting a properly sized hamster cage. Despite their small stature, hamsters need plenty of space to run around and exhibit natural behaviors. Here are some general cage size guidelines:
Syrian Hamsters: Minimum 24″ x 12″, aim for larger than 450 sq inches floorspace
Dwarf Hamsters: Minimum 24″ x 12″, aim for larger than 600 sq inches floorspace
Go as big as possible! More space reduces stress and accommodates accessories.
For Syrian hamsters, aim for a cage with over 600 square inches of floor space. 10+ square feet is ideal. Standard pet store cages are often too small and confined.
Opt for a large, wide tank or aquarium to provide your hamster ample floor area. Make sure to also account for height around accessories like wheels.
Select Safe and Sturdy Cage Materials
Hamsters are active chewers and can easily escape flimsy cages. Choose a tank or cage made from:
Thick, Bite-Proof Plastic or Glass
Durable Powder-Coated Wire with Bar Spacing Under 1/2 inch
Non-toxic Unpainted Wood like Birch (avoid pine or cedar)
The cage base should be leak-proof and the seams tightly sealed. Ensure wire cages have a deep plastic base to contain bedding. Avoid cages with thin plastic bases that industrious teeth will chew through.
Add Lots of Bedding
Hamsters love to tunnel and burrow! Provide at least 4-6 inches of pet-safe bedding over the whole cage floor so they can dig to their heart's content.
Aspen and paper-based bedding work well. Avoid scented, dyed, or pine and cedar shavings. Spot clean soiled areas daily and fully change bedding weekly.
Provide extra deep 10+ inch bedding in one corner for burrowing. You can use a container or cardboard box to hold the bedding. Add tunnels and hides buried in the bedding to encourage natural behaviors.
Include a Cozy Nesting Area
In one corner of the cage, create a dedicated sleeping and nesting space. Provide 3-4 inches of extra fluffy bedding or cotton nesting material.
You can use a hideaway house, log tunnel, or cardboard box with an entry hole cut into it. Make sure the nest is fully enclosed and placed away from food, water, and the wheel where it's quiet.
Line the nest with unscented toilet paper, paper towels or facial tissue. Avoid using fabrics that can tangle around limbs. Give your hamster plenty of nesting material to satisfy their burrowing instincts.
Offer Multi-Level Exploration
In large cages, add platforms, ramps, and tunnels to create a multi-story home. Ladders, bridges, and tubes allow hamsters to climb, jump, and play.
Build levels out of untreated wood, metal wire, or acrylic. Cover ramps in mesh for traction. Check for safety and stability. The maximum height between levels should be 10 inches to prevent falls.
Aim for at least 3 connected levels to encourage activity. Place food and water on different levels to motivate movement. Locate the wheel on the lowest level since hamsters will try to take running leaps off it!
Install an Appropriately Sized Wheel
A solid, appropriately sized wheel is essential for your hamster to run and burn energy. Choose a wheel at least 6.5 inches for dwarfs and 8-12 inches for Syrians.
Ensure your hamster can run in the wheel without arching its back. Attach the wheel securely to the cage bars to prevent injuries and accidents. Provide a stand or wheel that allows adjustment as your hamster grows.
Provide Toys for Mental Stimulation
Rotate a variety of toys to engage your hamster's natural foraging instincts. Offer boredom breakers like:
Chew toys like wood blocks, loofahs, and timothy hay twists
Hideaway huts, tubes, and tunnels
Treat puzzles and mazes containing healthy snacks
Safe, unpainted wood branches, sticks, and logs to gnaw on
Shreddable materials like cardboard and paper
Dig boxes filled with substrate to burrow in
Climbing ropes, ladders, and suspended wooden rings
Including a Water Bottle & Food Dish
Make sure to attach a drip-style water bottle securely to the cage bars. Position it low enough for easy drinking access. Provide an extra backup bottle in case one malfunctions.
Provide a tip-proof ceramic or heavy stainless steel food dish and scatter additional food into the bedding to encourage foraging. Don't use plastic bowls that can harbor bacteria.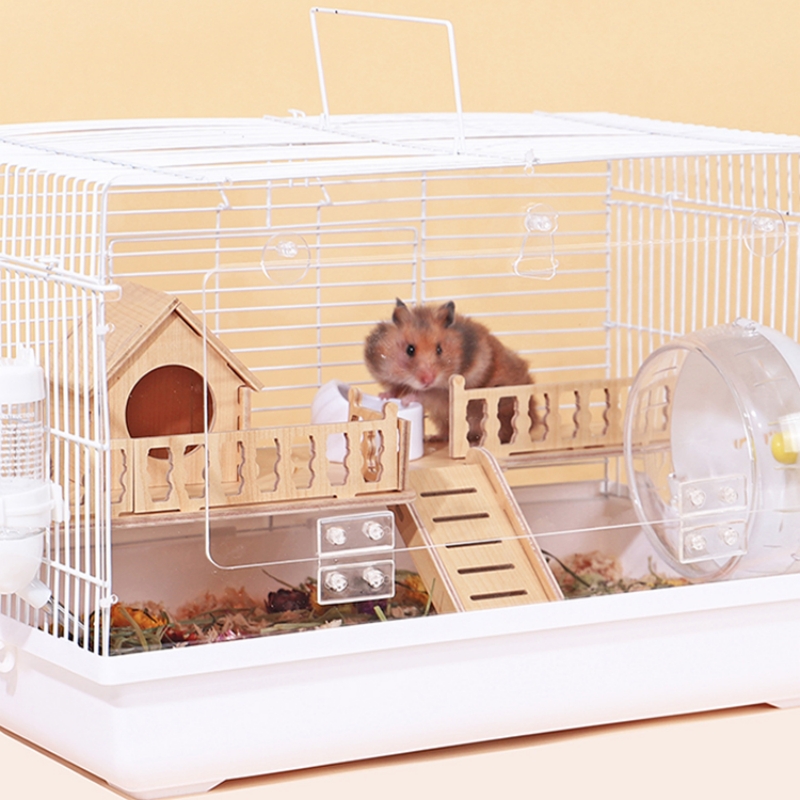 Decorate with Hamster-Safe Accessories
Finally, decorate your hamster's cage with fun, enriching accessories! Stick to hamster-safe items only:
Untreated wood houses, bridges, ledges
Ceramic, metal, or heavy food-safe plastic hideaways and tunnels
Sturdy exercise and lookout platforms
Natural mineral stones, logs, and sticks from outside (bake to disinfect)
Shredded paper, toilet paper rolls, and cardboard for shredding
Avoid Unsafe Décor Hazards
When decorating, there are also some hazardous items to avoid, including:
Painted, pressure-treated, or moldy wood
Toys with loose parts that can detach
Sand, small rocks or loose substrate
Household objects like fabric, cardboard tubes or string
Anything with holes or gaps that small paws and limbs could get caught in
Provide Proper Lighting
Hamsters are active at dawn and dusk. Make sure the cage isn't placed in direct sunlight or total darkness. Use a low-wattage bulb to maintain a regular day/night cycle if needed.
Clean the Cage Thoroughly
Dirty cages stress hamsters and make them more prone to escape. Fully clean the habitat at least once a week. Disinfect all items with pet-safe products only. Provide fresh food and water daily.
Check Cage Safety Frequently
Inspect the cage and accessories regularly for damage, sharp edges, loose parts, gaps and any safety hazards. Perform monthly deep cleans to sanitize the whole environment. Immediately discard and replace damaged toys and products.
Upgrade Your Hamster's Home Over Time
As your hamster ages, continue modifying and improving its habitat. Older hamsters especially benefit from bigger enclosures with lots of floor space. Add new tunnels, toys and activities to prevent boredom.
Consider a Naturalistic Cage Layout
Mimic your hamster's natural environment by using a naturalistic cage theme. Add lots of bedding, complex tunnel systems, wood/mineral décor, foraging areas and multi-level platforms for exercise. Mix up materials and textures.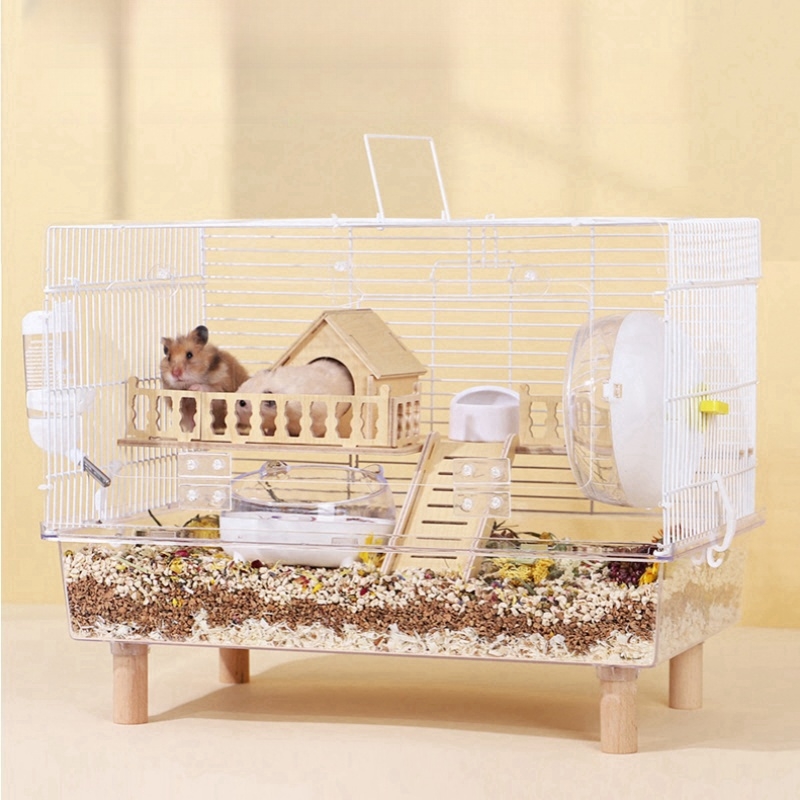 Conclusion
With the right setup, you can create an enriching hamster habitat that keeps your pet healthy, active, and entertained inside its cage. Follow these tips for happy hamster home decorating!
Provide plenty of space, safe materials, lots of bedding, multi-level platforms, exercise wheels, tunnels, foraging toys, and hamster-friendly accessories. Your furry friend will be squeaking with joy over its new paradise!